There is poetry as soon as we realize that we possess nothing.
John Cage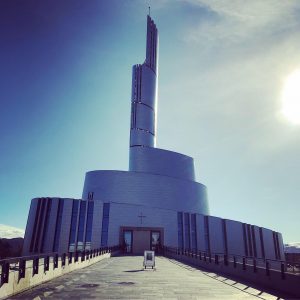 Meditasjon med John Cage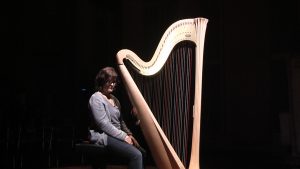 Bli en del av verket!!
De første kirkene som besøkes vil bli en del av verket. Hvert konsertopptak legges til fremtidige fremføringer. Slik vil verket utvikle seg og bli til «postkort» fra landets kirker, med kirkenes særegne klangrom, hørt i samspill med hverandre. Prosjektet er spesielt utviklet for kirkerommet i stein, men andre arenaer kan også være mulige.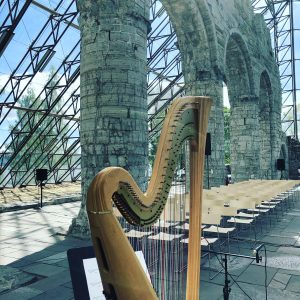 Bli omsluttet av klangen fra mange harper, dype og lyse vibrasjoner, stillstand. Postcards from Heaven er et verk som den amerikanske komponisten John Cage skrev i 1982 for 1-20 harper. Sunniva Rødland har, med støtte fra Notam og Kulturrådet, utviklet et unikt program der hun spiller alle harpestemmene selv, både live, i studioopptak og i feltopptak. Prosjektet er utviklet spesielt for steinkirker eller lignende konsertsteder.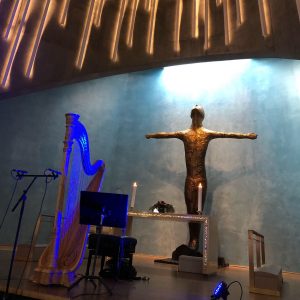 Sammen med lyddesigner Cato Langnes (Notam) avspiller de stemmene i rommet der de er, via 10 høyttalere som plasseres rundt publikum, samtidig som Sunniva spiller én av stemmene live. Harpeklangen, som er overmåtelig rik på overtoner, er en klang som er naturlig for øret. Klangen fremheves gjennom kirkerommets akustikk og en nøye uttenkt lyddistribusjon.
Prosjektet har så langt besøkt

Nesodden kirke 9.mai 2019

Domkirkeodden, Hamar 26.mai 2019

Ishavskatedralen, Tromsø 11.juni 2019

Nordlyskatedralen, Alta 13.juni 2019

Gamle Aker kirke, Oslo 2019

Vår Frue kirke, Trondheim 2019

 Omtale i Altaposten 2019
Dette er John Cage's instruksjoner:
«Three double ragas, double because either part may be used for ascending or descending. One may move from one side to another of a single raga at «transfer points,» closed noteheads. Where no such notepad exist, separate the use from one side of the raga from the other by silence. The associated numbers are talas on the basis of which phrasing or durations of sounds or silences may be improvised.
Improvisation may be «melodic» and/or «percussive». «Melodic» means proceeding stepwise, leaping only in the opposite direction, following a leap by a step or steps in the opposite direction, continually establishing, that is, the character of the raga. Ornaments are welcome. «Percussive means single events preceded and followed by silence, or several events performed repetitively. These may be glissandi (the ragas permitting them); chords and/or single tones; the single tones may be produced conventionally, or with an E-Bow (electronic means of setting a metallic string into continuous vibration), or with a super ball (used fricatively, lengthwise on the string, or on the soundboard). Dynamics are free.
The improvisation may be continuous or interrupted by silences, its total length to be determined by the players. It should begin and end with use on the part of all harpists of the E-Bow, for a period of time between one-tenth and one-sixth of the total time length. Any unintended sounds (clicking of the push button, etc.) are acceptable though not to be sought. Ossia: Hum ppp any one tone of the raga as log as the breath holds continuing after a new breath with the same or another tone of the raga.
Five pedal arrangements are given. Changes from one to another must be complete, but may take place at any time (during a passage, or between passages).»
John Cage, 1982
Ta kontakt for mer info!
Støttet av: